Tilework Fabric Notebook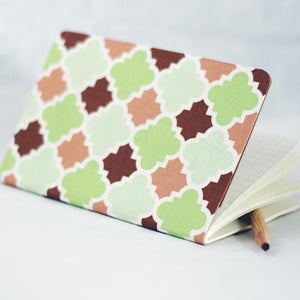 $

6.50
Love fabric? Love paper? Have your cake and eat it, too!
This mini (3.5" x 5.5") moleskine notebook is covered in a "mint chocolate chip" cotton-remant of our Tilework fabric.
Moleskine notebooks are ethically and sustainably produced. The fabrics used to make these notebooks are remnants of the fabric "strike-offs" used to proof Cottage Industrialist textiles. This means less waste and very limited quantities!
64 pages, graph paper, back flap pocket.